ABOUT US
Learn more about Najaf Rugs & Textiles


Najaf Rugs & Textiles was established in 2002 by Najaf Mazari. Najaf is an Afghan refugee who fled from Mazar-E-Sharif in Afghanistan to Australia. With the never ending war and wanting a better life, leaving Afghanistan was a necessary move.
Najaf learnt the art of rug making at only 12 years old. Learning a trade was important to Najaf's oldest brother who became the father of the household when his father suddenly passed away. As they could not afford to send him to school, learning a trade was the next best thing to help him provide an income. Little did he know at the time, that this would be the best most incredible craft to learn.
After arriving to Australia, Najaf was detained at Woomera detention centre for 4 months before his release. When asked where he would like to be settled, Najaf said Tasmania, as he had heard that there was an abundant amount of sheep's in Tasmania. He thought he could start a new life there as a shepherd, just like when he was one back in Afghanistan.
But fate brought him to Melbourne. He arrived in Melbourne with a temporary protection visa and an uncertain future. So with that he opened up a shop at 461 High St, Prahran. With no money, no English and no rugs, he became well known for his high quality repairs. Often working from 7 am to 11 pm, he sat in front of the window of his shop repairing rugs, hoping to get the attention of the pedestrians on High St.
This worked out well as at the time there was 1 or 2 other handmade rug repairers, making the skill in demand. Within two weeks the word was out. Everyone had heard about that repair man from Afghanistan, in which many rug dealers rang Najaf and asked him to work for them but he refused as he wanted to work for himself.
From there, his business launched into what it is today. An authentic and honest Afghan rug shop, that offers Afghan tea to every customer.
His life become even more interesting when Najaf had the amazing opportunity to publish books with co-writer Robert Hillman; The Rug Maker of Mazar-e-Sharif and The Honey Thief. Both of the books have been best sellers and still continue to do well to this day.
Najaf's first book (The Rug Maker) was on the VCE book list for 3 years, which then got extended for another 3 years. Najaf was nominated for Australian of the Year Awards 2014 and also has had a portrait entered into the Archibald by artist Phillip Howe. With 100% of the royalties of The Rug Maker, Najaf launched AusGhan Aid in hopes to give back to his community in Mazar-e-Sharif. AusGhan Aid has provided health and educational services for the last 8 years to the most vulnerable. You can read up more on AusGhan Aid here.
With this incredible history and hard work, he built his business to what it is today. Najaf Rugs endeavours to provide the best customer service with honesty and integrity. To maintain the trust and respect Najaf Rugs has in the industry, Najaf handpicks every single rug we sell at Najaf Rugs. He makes 2-3 international trips per year to select, quality check and organise all our shipments.
Today, Najaf and his daughter, Maria work alongside each other to continue to bring the best handmade rugs to their customers.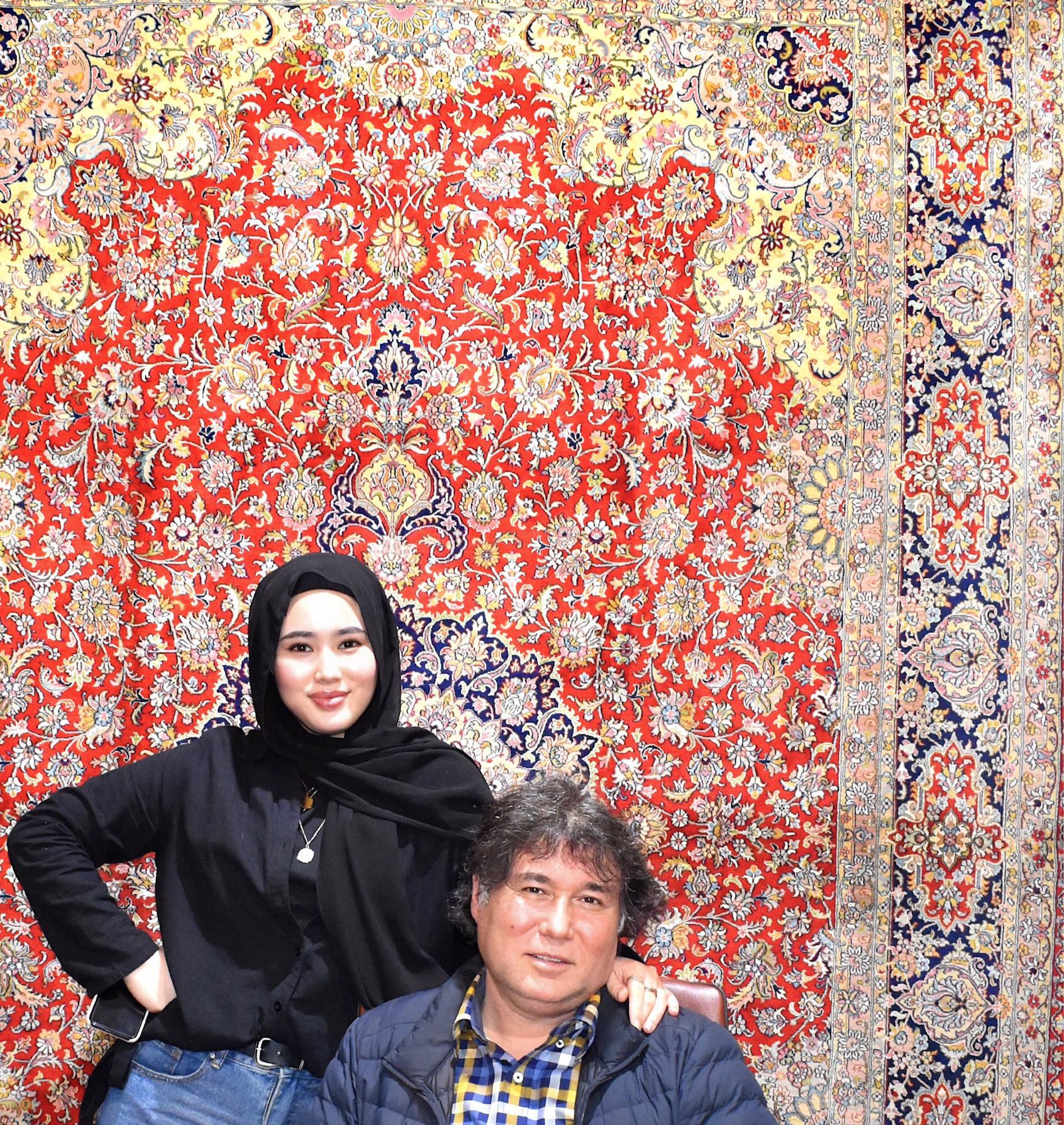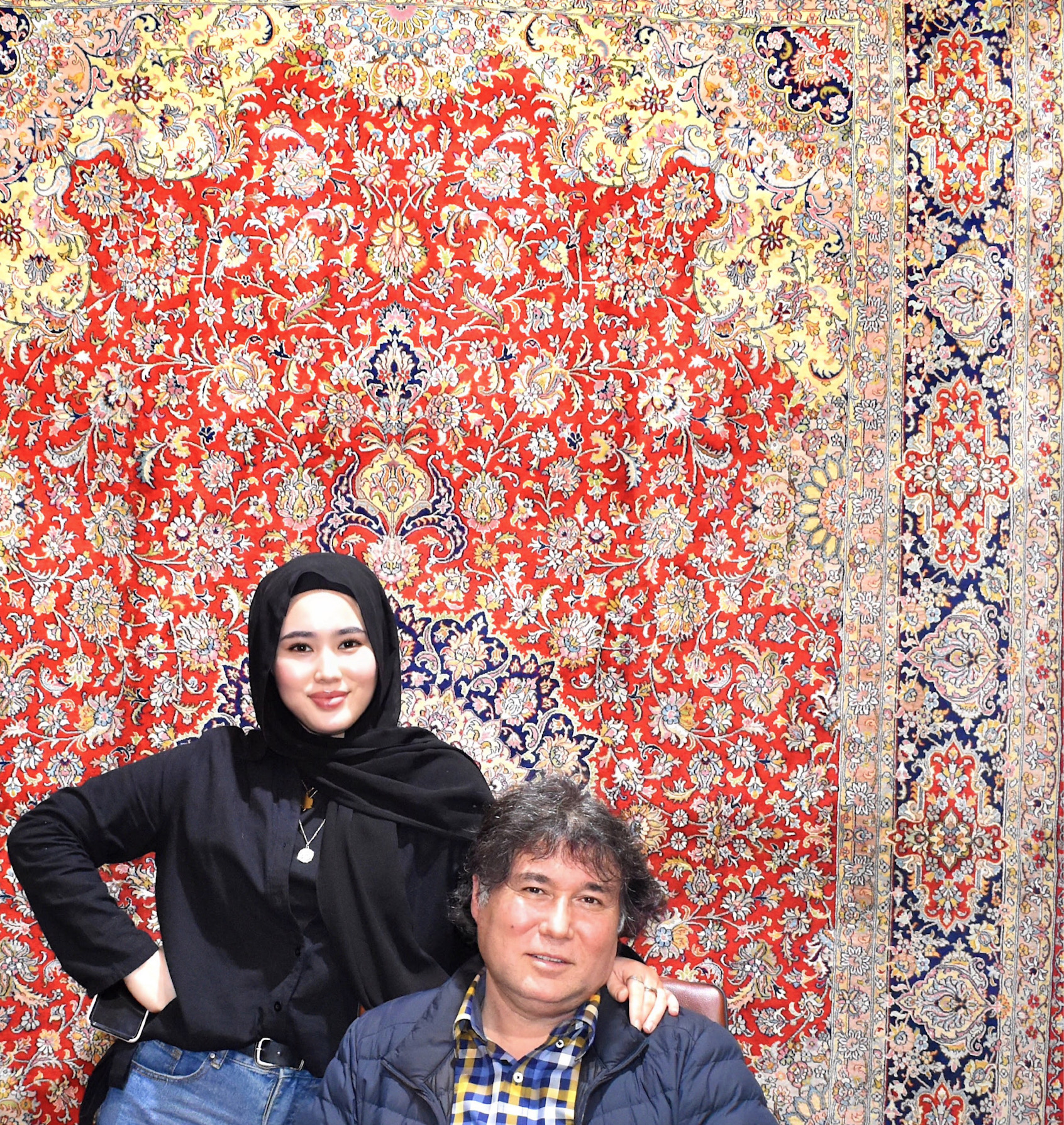 WHO WE ARE
Najaf and Maria Mazari are the father-daughter duo who run Najaf Rugs.
Najaf Mazari learnt the art of rug making at only 12 years old and has not looked back since. His passion for rugs is seen through every rug selection and customer interaction.
Maria Mazari joined the business in 2017, straight after completing high school. Her love and passion for rugs has been passed down to her since she was a kid where she would often use the rug shop as a playground, jumping from one pile of rugs onto another. She now has a Bachelors of Textile Design and Fashion Enterprise, truly making her rug obsessed.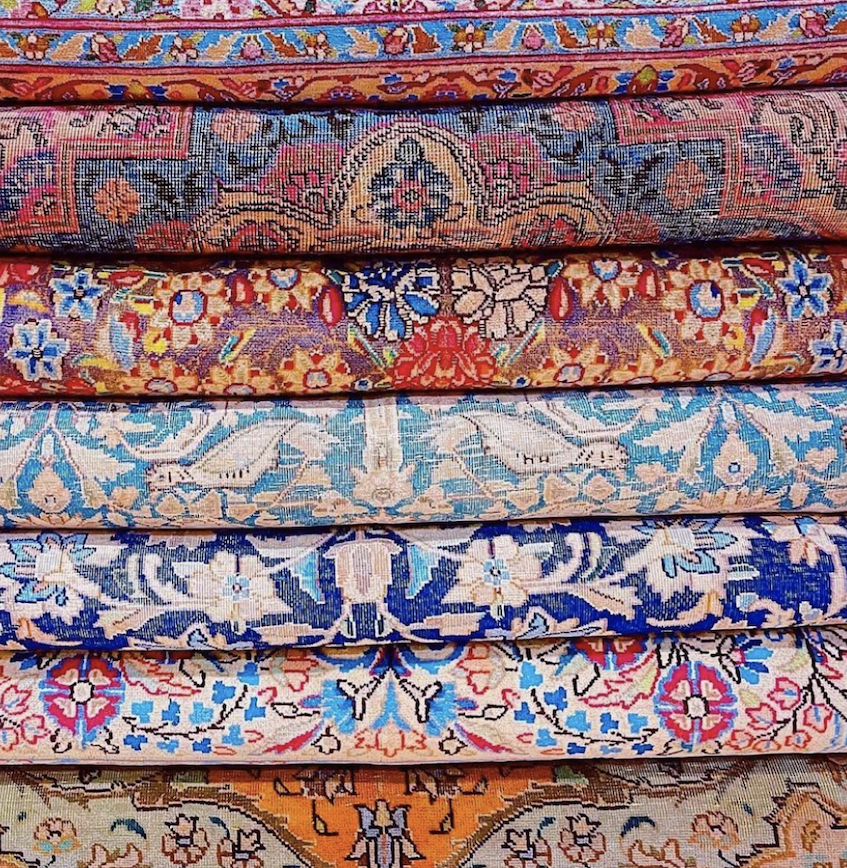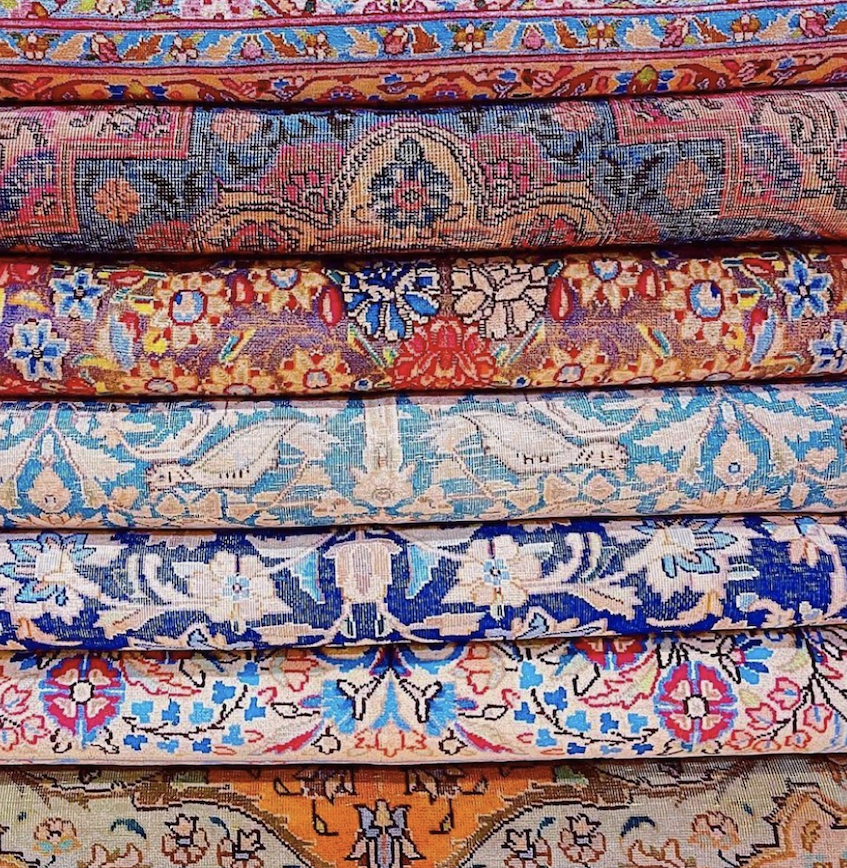 OUR PRODUCTS
Every single one of our Rugs & Textiles are hand-selected by Najaf, this process ensures that we're only bringing in the best. Najaf's expertise allows him to quality check every rug to make sure it meets our high standards.
We source the majority of our rugs from Afghanistan (we're a bit biased that Afghanistan makes the best rugs) Iran, Turkey and have select few from Caucasus countries as well as India and Kashmir. We believe in quality, care, and sourcing unique products that everyone can enjoy and be inspired by. Each product represents what we love about the incredible craft of rug making.
We keep our rugs at a fair price as we believe these are works of art that deserve to be loved and enjoyed by everyone.
Najaf's Accomplishments
From being a shepherd in the mountains of Afghanistan to a refugee success story, Najaf's accomplishments are beyond anything he imagined for himself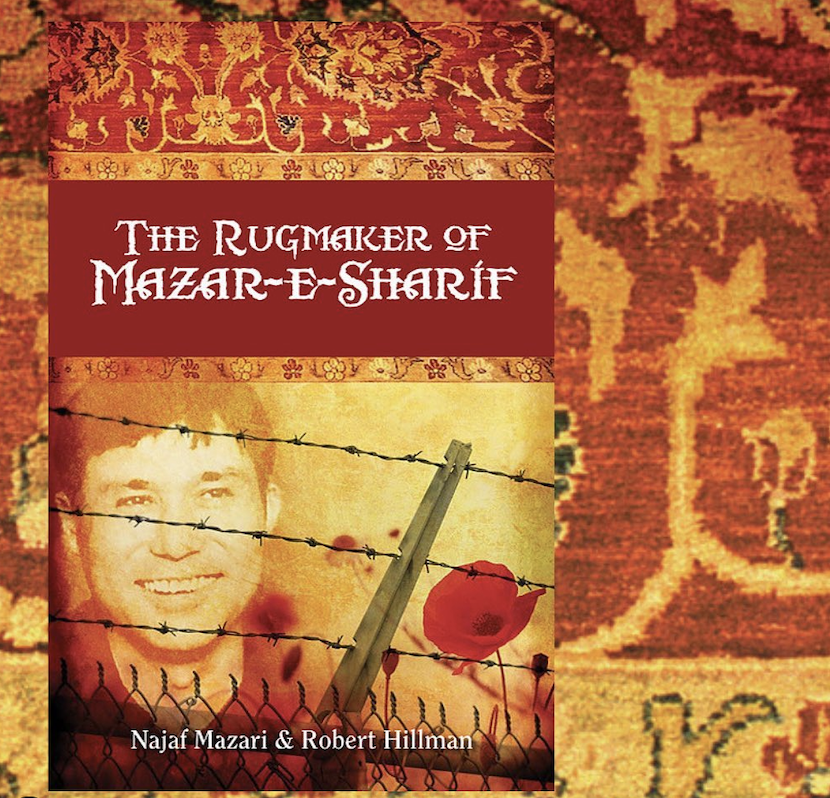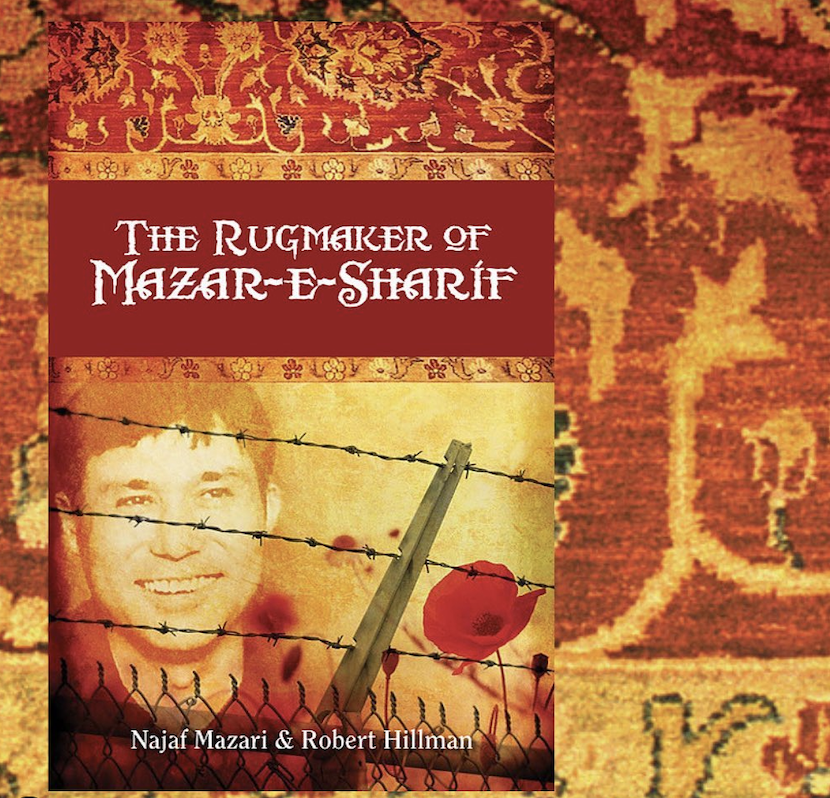 The Rug Maker Book
Najaf's autobiography, The Rug Maker of Mazar-e-Sharif, is an international best seller. Co-published with Robert Hillman.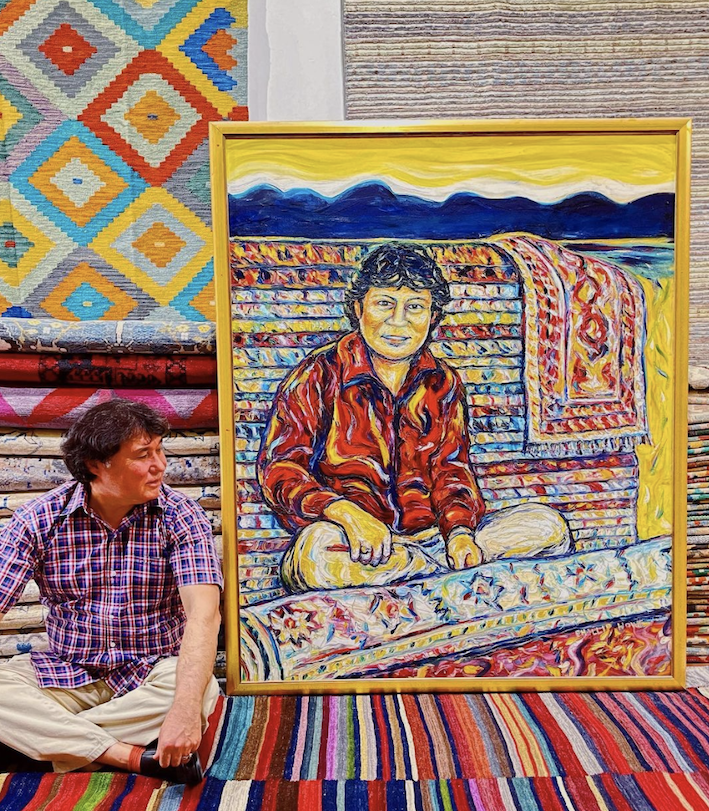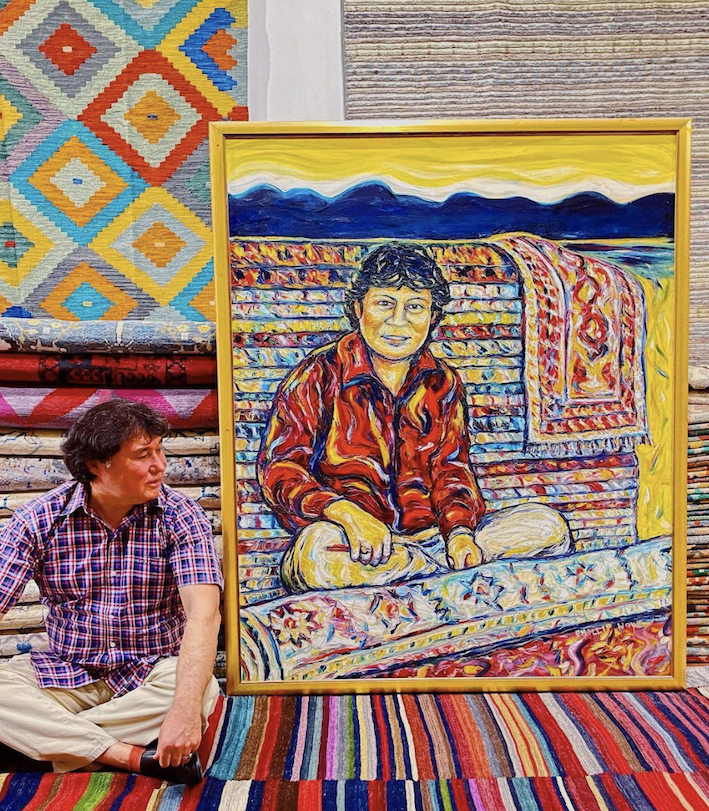 Najaf Mazari x Archibald 2014
Najaf's portrait entered into the Archibald by artist Phillip Howe in 2014. It lives in our Prahran store today.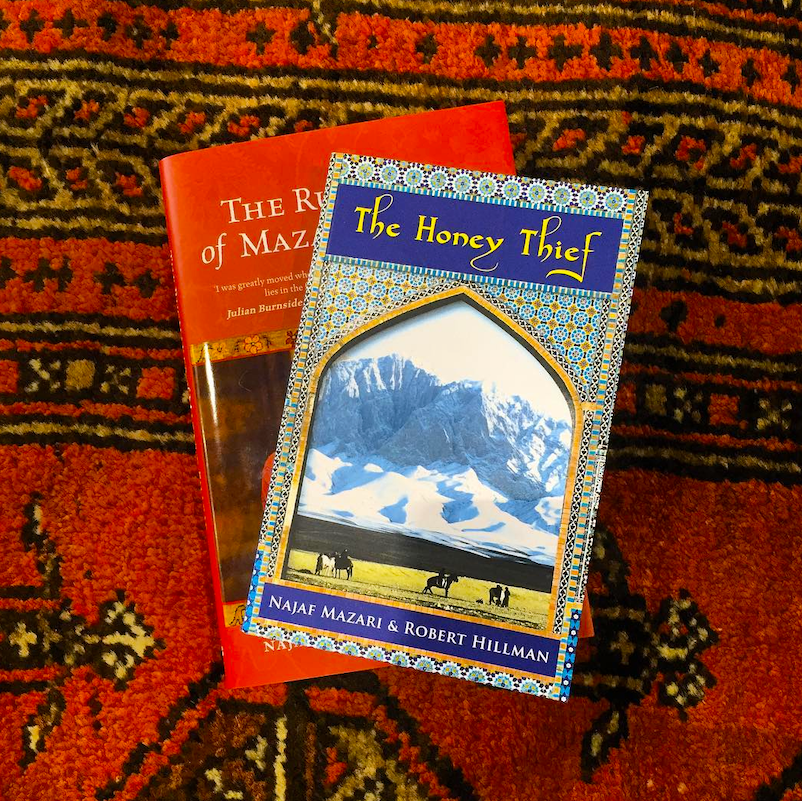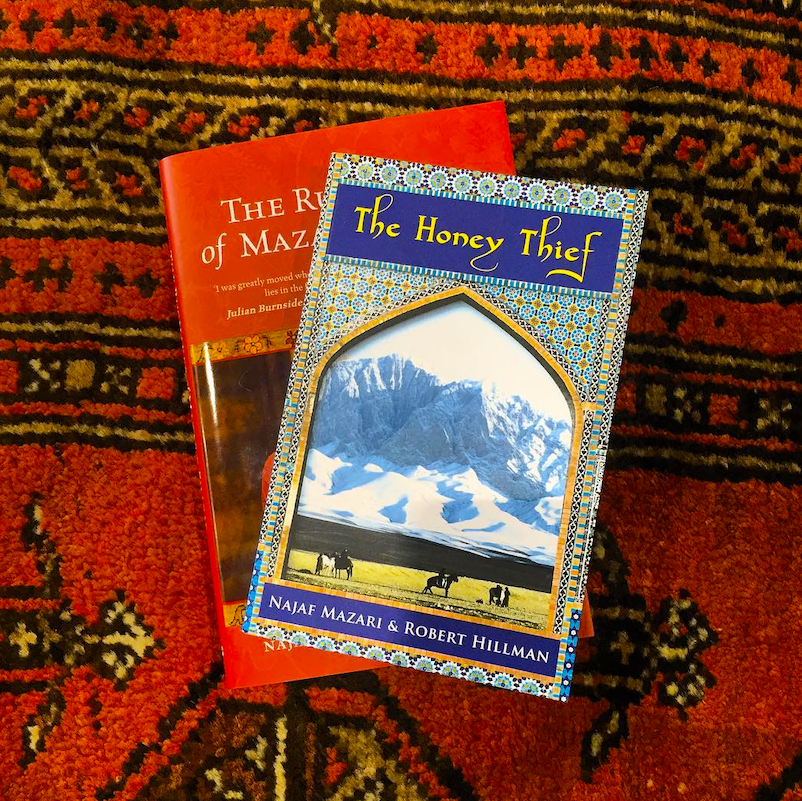 The Honey Thief Book
Najaf's second book, The Honey Thief is a collection of short stories that is passed down from generation to generation about Afghanistan.
Humble Beginnings
Our business came from humble beginnings, from Najaf being a shepherd in mountainous Afghanistan to learning rug making at 12, Najaf has brought his craft and skill from Afghanistan to Australia and hasn't looked back since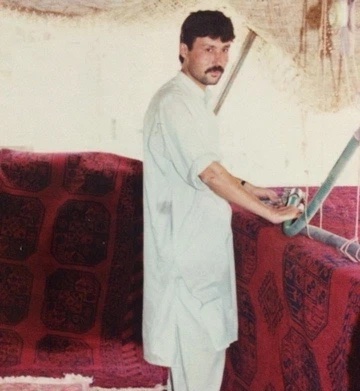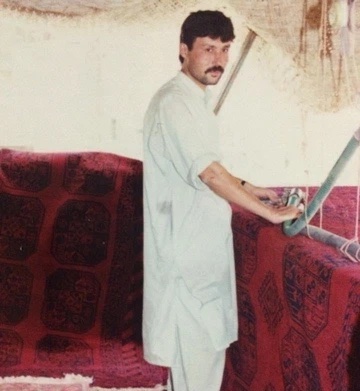 Pictured, Najaf in his early 20s at his own rug making factory in Mazar-e-Sharif, Afghanistan.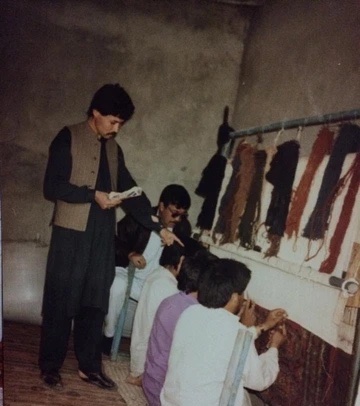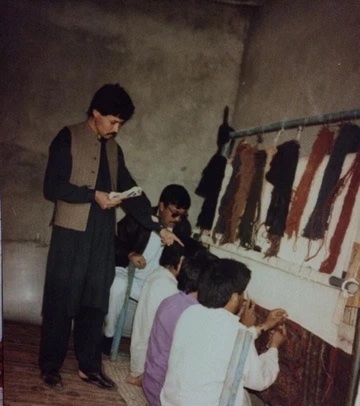 Picture, Najaf standing overseeing a rug being woven. Circa 1994.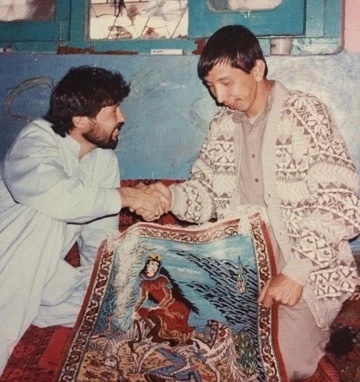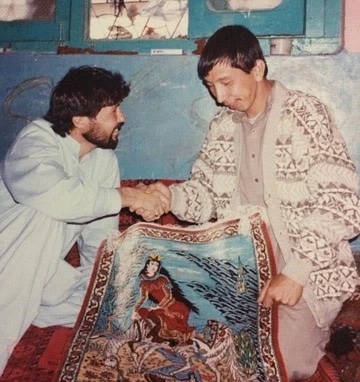 Pictured, Najaf on the left hand selecting and purchasing a rug for his business. Circa 1995.
Restoration
Known for his high quality repairs, Najaf is the most trusted rug repairer in Australia. Whilst he doesn't take on many repair jobs anymore, he still puts his craft to use when he has the time to here and there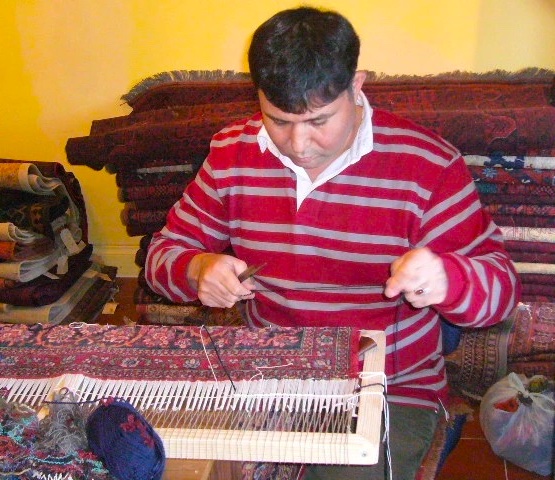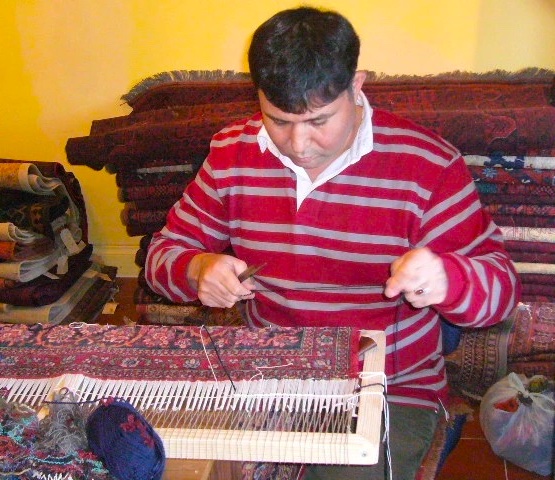 Circa 2005, Najaf repairing the fringe of a rug that's been worn and damaged overtime.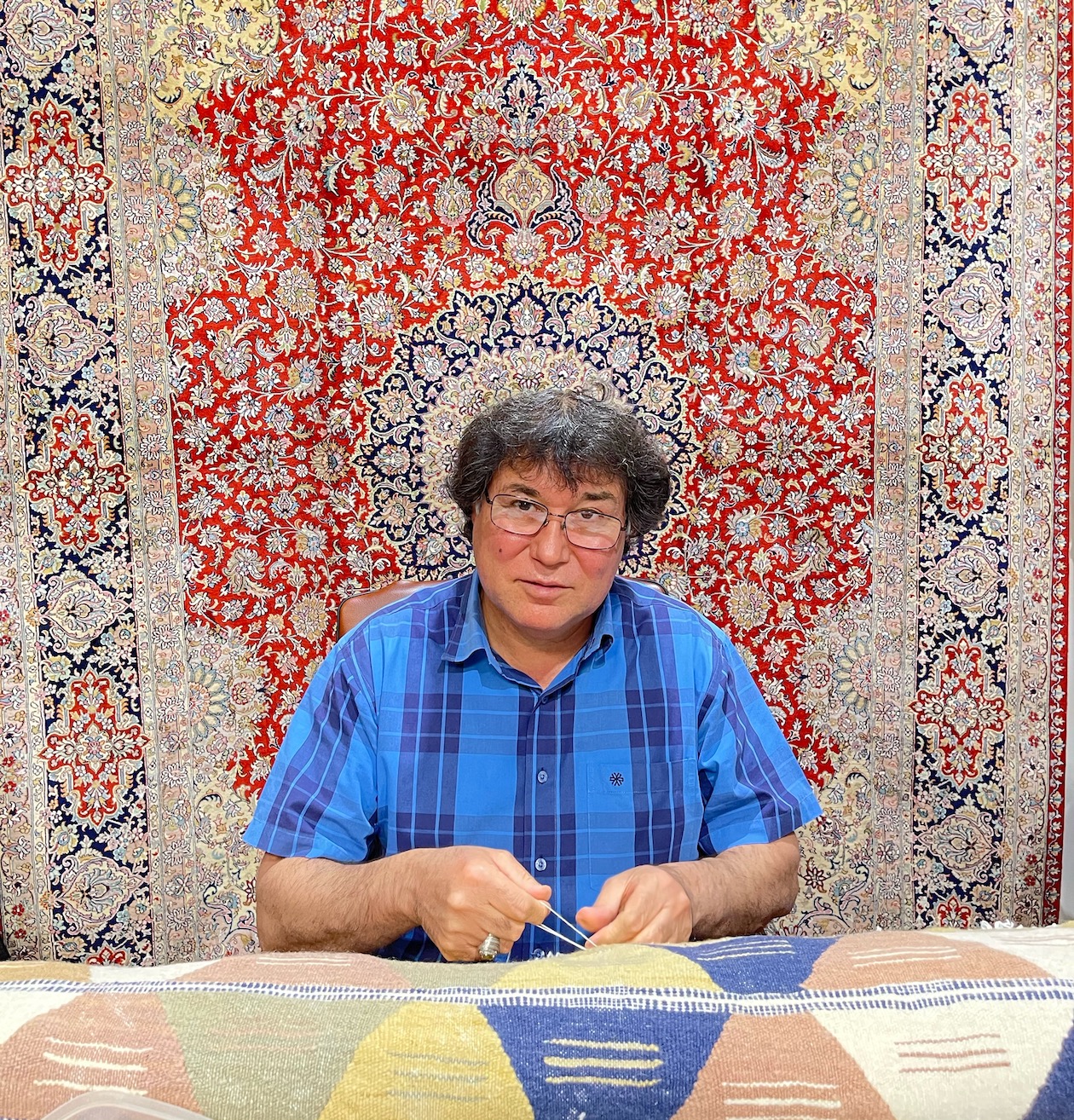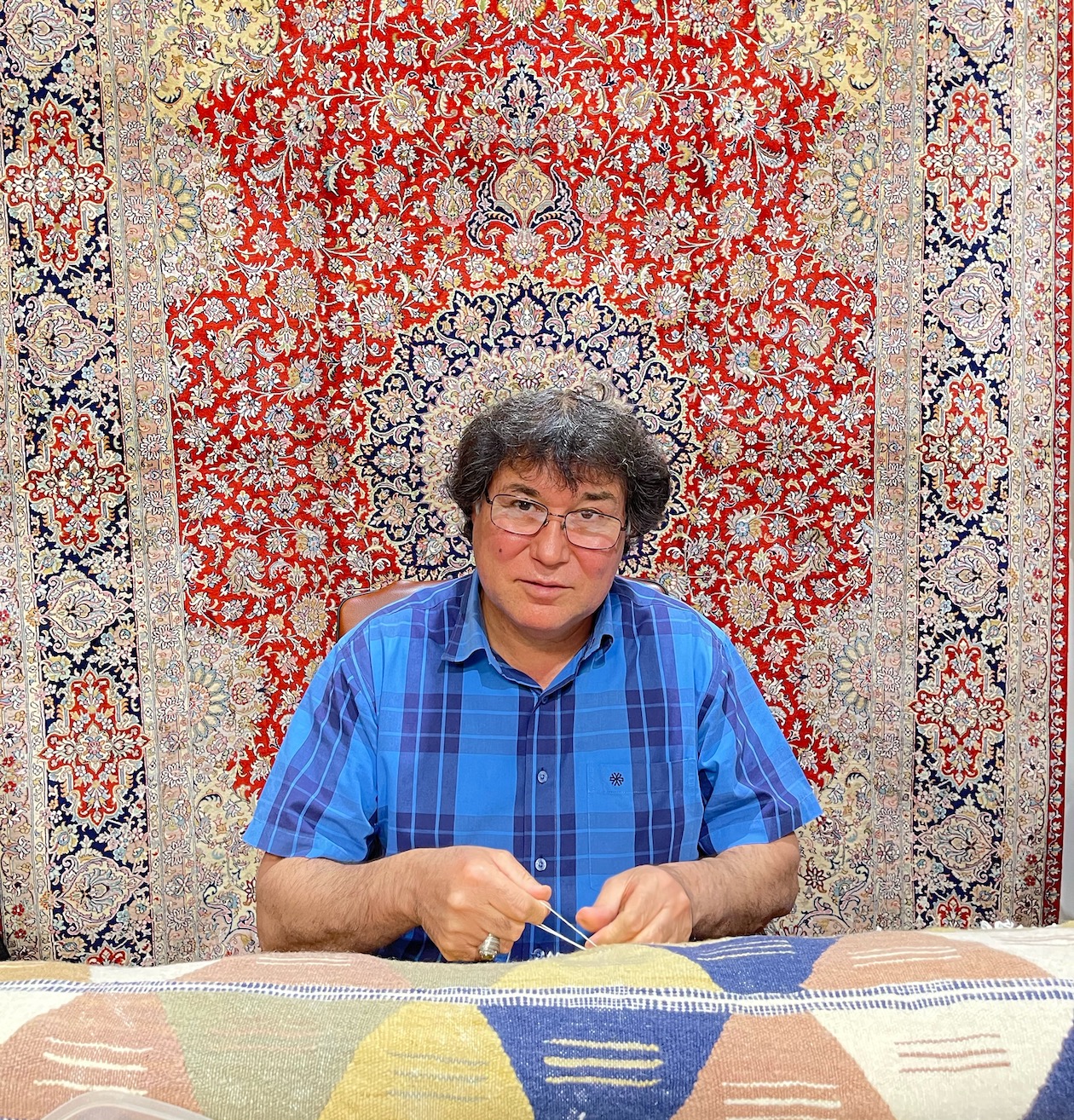 Repairing a rug in early 2021. Rugs are works of art that deserve to be given lots of care.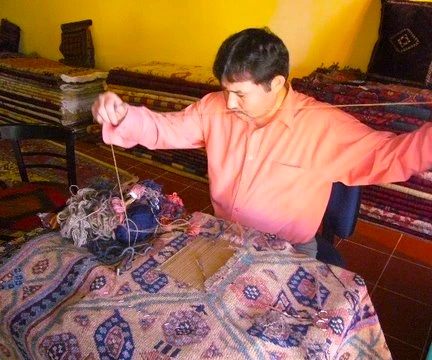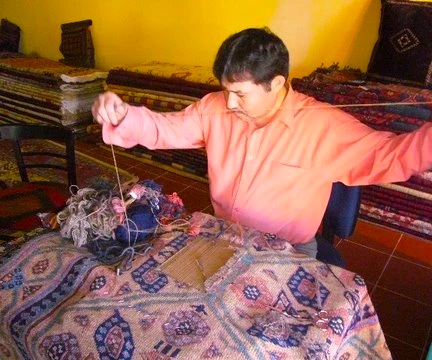 Can you see the massive hole in the rug? This repair job took 1 and a half months to complete!
DON'T JUST TRUST OUR WORD, TRUST OUR CUSTOMER'S!